Business Headshot Client from a Referral Networking Group
It's all About Who you Know. And who they know.
My name is Sean and I'm a meetup-a-holic. Those of you that know me well won't be shocked by this at all. You already know that I have built my business by going to a wide variety of networking events and meetup groups designed for business owners to meet and get to know other business owners. At times I have been a regular at as many as 30 groups or events in a month. These have ranged from breakfast or lunch meetings, trade shows, coffee groups, and workshops with other small business owners. Lately I've cut this back to a much more manageable 10-12 events each month, but even that is enough meetings for me to get to know lots of new people and to reaffirm my relationship with the other networkers that I already know.
The thing is, many of my clients go to as many of these events as I do. Or more. We've met each other so many times over the past few years that we introduce each other as "My Electrician", "My Bookkeeper", or "My Insurance Guy". This often happens even if we haven't actually used each others services yet. We know that when the time comes we will use each others services. We do this because we already know, like, and trust them well enough that there really is no other choice as to whose services we will use.
More importantly, we also tell everyone we know that they should also use the services of the connections in our networks. And very often they do just that. People often listen to referrals from their friends because it's easier to use a referral than it is to do the research to find our own contractors and service providers.
That's where the real business growth comes from… It's really not whether one other business person uses my services; no, it's more about how many other people they refer my services to. It's all about who you know, and who they know, and who they know. This is like getting compound interest from the bank.
In-Person Networking vs. Social Media
The principle of networking to help each other grow their businesses can be used exactly the same way in the social media universe as it does in live face-to-face networking. Unfortunately it's not nearly as effective. We are constantly bombarded with new people to Like, Connect with, +1, or Friend that it's hard to keep track of whose who and what they are all about. Getting to know somebody in real life will always result in stronger relationships than any online networking ever could.
But the two go hand in hand and it's actually worth using your social media presence to reinforce your real life connections.
Maximize your Social Media Connection to your Real-life Networking Partners
I don't know how many times I've met somebody at a networking event and then received a LinkedIn connection request from them before I even make it back to my office. This is actually a smart move, but there are ways to make sure that it's worth the time to do it. Here are 3 quick tips that you can use to maximize the value that you are getting from connecting online with the people you meet offline:
Be sure to introduce yourself, clearly, so that your clients and prospects hear your first and last name. People associate names and faces and they are much more likely to actually remember you if they have clearly heard both of your names. If it makes sense to tell them the name of your business and a little but about what you do then do that too. But don't force it. If you come out too strongly it will look like you only care about yourself.
Make sure you have a great headshot on your social media profiles. It has to look like you (now, not 10 years ago) and it should be similar in appearance to how you look when you meet your clients or prospects at a networking event.
Before you go to the next networking event be sure to have a quick look at the guest list to see who will be there. If you recognize some of the names or faces then check out their recent updates on LinkedIn or Facebook to see what they have been up to recently. These can be great conversation starters and it will reinforce that you care about them.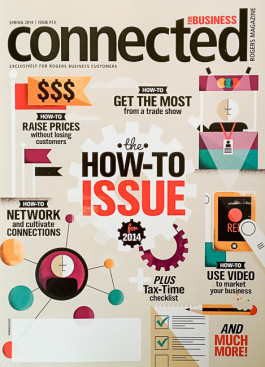 Do you want to learn more about how to make in-person networking work for you. There's a great article in the February issue of Connected for Business magazine called Networking 101 that walks you through all the important aspects if face-to-face networking and how to make it work for you. If you look closely you might even notice a few quotes from yours truly in the article!
Schedule a Calgary Headshot Appointment
If you want to maximize the value of your online profile as a way to better connect with the people that you meet at networking events then you need to book a professional headshot session as soon as possible. Your connections will remember you better and form a deeper connection with you and your business if you have a great profile headshot on your social media accounts.